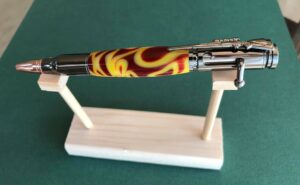 One of my favorite hobbies is Woodworking and I make pens by hand-turning them on a lathe. They are made using either wood or acrylic. Each pen is assembled using a "pen kit" which consists of a pen tip, a clip, an end price, a middle ring, and a pen ink cartridge (black). These pens make great gifts (birthdays, fathers day, mother day, Christmas, retirement) or a perfect addition to your desk.
You will see several photo galleries below: Pen Shapes, Wood Selection, Acrylic Selection, Pen Kits, Pens for Sale, and Pens Sold. Please understand that no two pieces of wood/acrylic are the same so it is difficult to exactly duplicate a pen (I consider each pen unique).
Pen prices ranges from $20 to $40 (free shipping included).
Pen Blank (wood/acrylic) + Pen Kit (twist, click, bolt) + labor (prep, shape, sanding, glue, assembly) = Finished Pen
When thinking about the type of pen you might want, please consider these attributes:
Pen Shape (cigar, slimline or tapered)
Pen Blank (wood or acrylic)
Pen Kit (twist, click, bolt – copper, satin, chrome, black, gunmetal)
Pen Price (bolt action pens are more expensive; acrylic can be more labor intensive)
Pen Shapes – Cigar, Slimline, Tapered or Combination
The shape of a pen falls into three basic types: cigar, slimline, tapered or a combination of shapes. Some pens have one one piece of wood/acrylic (and therefore one shape). Others are made using two pieces of wood/acrylic and therefore can have two of the same shape or a combination of shapes.
Wood Selections
Here are some of the types of wood I have used when making a pen. Primarily I have used either walnut, bubinga, maple burl, bolivian rosewood, padauk, box elder, mahogany, yellowheart or ebony. There are other types of wood that I have in inventory but they have not been turned yet. If you are interested in a particular style of wood, let me know and I will see if I have it or can source it.
Acrylic Selections
Another option to wood is to use acrylics (plastic or resin). There is no limit to the number of different styles and colors of acrylic blanks that are available. Here are a few that I have used. Acrylic blanks are usually more expensive than wood and they normally take longer to turn. There are many other types of acrylic I have but they are acrylic blanks (have not been turned). If you are interested in a particular acrylic style, let me know and I will see if I have it or can source it.
Pen Kits – Twist, Click, Bolt or Theme-related
Colors: Bright Copper, Gunmetal, Satin (Silver), Black, Chrome
Pen kits are made of metal and are used to assemble the finished pen. They usually consist of a pen tip, pen middle (ring), clip, pen ink cartridge, and a pen top. I've made pens using three different styles: twist, click or bolt. I prefer the twist style and love the look of the bolt action. There are also "theme"-related pen kits (pirates, dog, steampunk, etc) that can be used.
The metal comes in the following colors: chrome, satin (silver), gunmetal, bright copper or black. As you look through the pen gallery you will see the different styles and colors represented. The pen kit represents the largest cost of pen (other than labor).
Hand-Turned Pens – In Inventory
The following are pens that are currently in my inventory. Prices range from $20 to $40. The price includes free shipping. Each pen comes in a black box with cotton inside – perfect as a gift box or for storage. I also include a small certificate card that includes the Willow Walk Woods name, the type of pen (Wood or Acrylic) and the year that the pen was made. Please note that I may be able to re-make a pen in the "sold" gallery (below) if you are interested in any of those pens.
Hand-Turned Pens – Previously Sold
If you would like to purchase a pen that has previously sold, please let me know and I will see if I can re-create it. Remember that you can specify the shape, wood/acrylic and/or pen kit color/style if you have a preference.
Pen Prices
My pens are priced from $20 to $40 and include free shipping. They are shipped in a black box gift box with cotton inside. Some pens are placed in plastic shipping tubes while others are specially bubble-wrapped for protection. These pens are made from wood or acrylic blanks and pen kits (each must be purchased). Each pen must be prepped (cut to size, drilled, brass tube glued inside), turned on the lathe (shaped, sanded, CA glue added, and polished) and assembled (final sanding/polishing, pen kit assembly). Most pens can be taken apart (in the middle) and the ink cartridge replaced (parker refill) giving you a pen that will last you a long time.
Please contact me if you would like to purchase a pen or have one made to your specifications (if possible). I also also looking into turning pencils and darts if you are interested.
Thank you,
Rick